Naturally black flowers are rare and unusual to grow in your backyard. Black blooms are not true black since they have deep blue, purple, red, or brown hues. But jet-black blooms create stunning contrasts with other brightly colored flowers.
My favorite plants with black flowers are black beauty pansy, queen of night tulip, black star calla Lilly, and black hollyhock. These dramatic-looking black blooms are cultivars of well-known flower species.
Different types of black flowers symbolize elegance, mystery, or somber feelings. These black blooms stand out best when grown against a backdrop of bright colored flowers or foliages. Let us find out more about these black flowers names and pictures.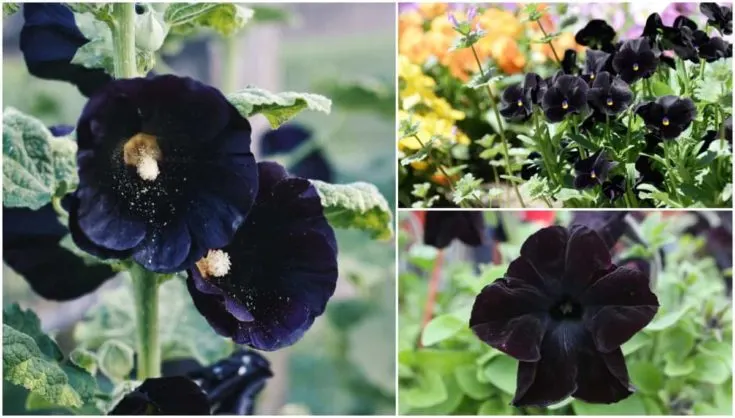 Plants with Black Flowers You Need to Grow
Getting plants with naturally black flowers can be a daunting experience since they are rare. (Source: Mississippi State University). But here are quick examples of plants with black or dark purple flowers to sought-after for your backyard:
Persian Lily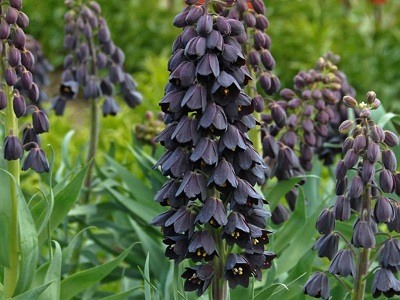 If you are looking for a plant with true dramatic flair blooms, consider the Persian lilies since they are the best. These bulbous perennials have flowers in numerous colors, but almost black blooms are the most sought-after.
These moody flowers have a bell-shaped appearance and occur in a group of over 20 on tall spikes. The tall softness of these plants adds a dramatic-looking to your garden without overpowering it.
Persian lilies are the perfect addition to the bulb beds since they create an attractive display when grown in large groups. These lilies are also an excellent option for spring beds since they bloom during the spring.
Penny Black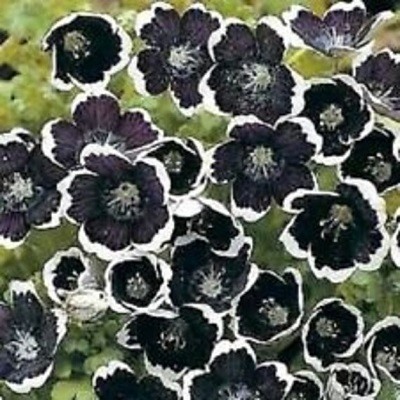 Penny blacks are annual plants with a low-growing habit. These plants produce purple flowers that are almost black with white edges and centers. The contrasting feature helps increase the moodiness and mystique of penny blacks in your backyard.
The dark blooms pop up well in a garden with bright green leaves. Besides that, the shortness and colored flowers make them excellent filler plants. We recommend planting penny blacks in containers or hanging baskets.
If you love planting taller plants, penny blacks can make a great ground cover choice by adding a dramatic flair. These short annual plants bloom throughout the spring and summer, adding unique flairs to your yard.
Iris Dark Vader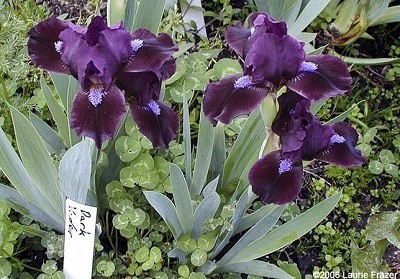 Dark Vader Iris has deep violet flowers with a dark-blue beard. These attractive hues make the blooms almost black though less than the Before the Storm cultivar. The shortness makes this Iris cultivar ideal for containers or forefront beds.
Dark Vader thrives in a well-moist potting mix to splash dramatic flairs to your garden pond edges. The plant blooms during the mid to late summer and enjoys a wide range of climatic conditions.
Blackout Viola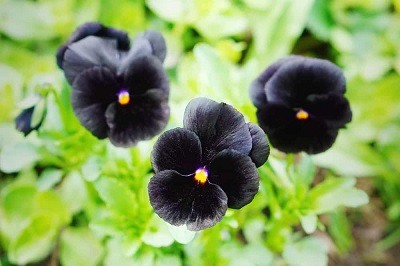 These blackouts are an excellent classic addition to gardens with limited space. Violas are suitable for window boxes and cottage-style gardens since the velvety black flowers have a dramatic appearance.
The bright green foliages and yellow centers help accentuate the black blooms. The sweet fragrances and ease of maintenance make violas more popular. These plants prefer moist conditions and USDA zones of 6-10 to thrive well.
These plants thrive under bright indirect sunlight and may require winter protection since they are vulnerable to frosts. The elegant blooms can also make your rocky garden and window boxes stand out.
Nigra Hollyhock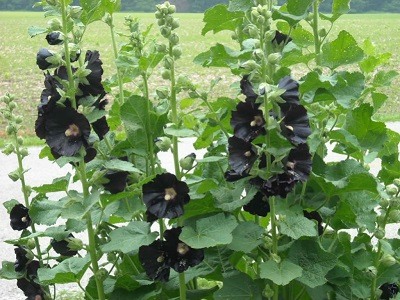 Hollyhock nigra is the most popular plant with black flowers. The bright blooms and height can mark a bold statement in your garden or become the best choice for landscaping ideas.
The Nigra blooms are waxy and deep purple-black. The dark blooms match perfectly with the light creamy centers creating a dramatic mystique to your garden or vintage bed backdrops.
Nigra hollyhock plants bloom in the mid to late summer when grown in a USDA zone of 3-9. A mature hollyhock can grow up to 5-8ft tall to make it a perfect fence liner. If you are looking for a classic look, consider nigra hollyhock cultivar.
Black Bat Flower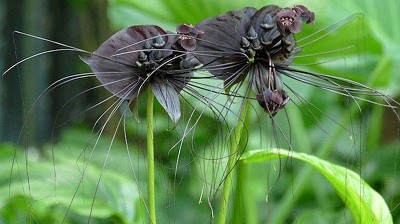 The black bat flower is my favorite choice due to its outlandish appeal that looks like a bat in flight. Besides that, the seedpods resemble small bat faces. It is a rare plant with deep purple-black ruffled blooms and hanging filaments.
The black flowers are offset by the large bright green foliages. But the black bat flower is a finicky plant that requires ultimate attention to thrive well. These flowering plants prefer warm and moist tropical climates with a USDA zone of 9-11.
Before the Storm Iris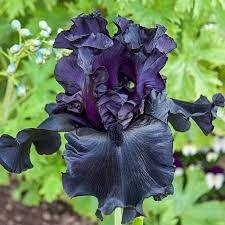 Bearded irises are the most popular garden staples due to their attractive flowers with a myriad of colors. Before the Storm cultivar is the darkest iris with deep purple flowers that appear in mid to late summer.
The deep purple flowers with black hues add elegance to any space. Each stem produces a dozen of flowers throughout the spring and summer. The sweet fragrance makes this iris species ideal for containers or along the garden borders.
The sharp leaves match perfectly with the soft-edged flowers to mark a bold statement in the modern and traditional landscapes. These attractive flowers also blend well with the vibrant silver-green foliages.
Karma Choc Dahlia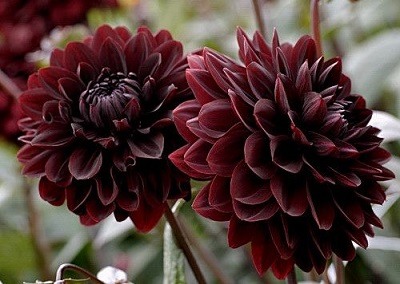 It is the darkest dahlia variety with a mass of dark red velvet petals that fade into almost black centers. The flower pigments help create an ombre effect when grown in vases in the garden.
These dark blooms with blue tints tower over the foliages for about two weeks. We recommend the dahlia karma choc cultivar for cut flower gardeners. These flowers add a dash of darkness to borders and containers.
Black Baccara Rose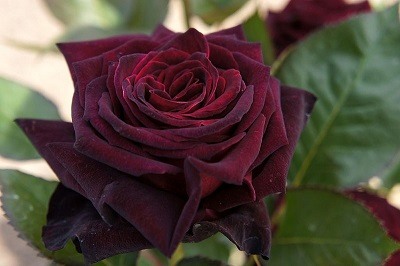 It is a hybrid tea rose with deep-dark maroon petals that appear black. It is also the darkest tea rose species on the market. The bushy dramatic flair is enhanced by the red-black velvet-like petals, dark green foliages, and glossy leaves.
The black baccarat roses are perennial flowering plants that bloom in flushes between spring and fall. It can survive in USDA zones of 5-9 and most tropical climatic conditions. The plant prefers bright full sunlight to thrive well.
Black Beauty Pansy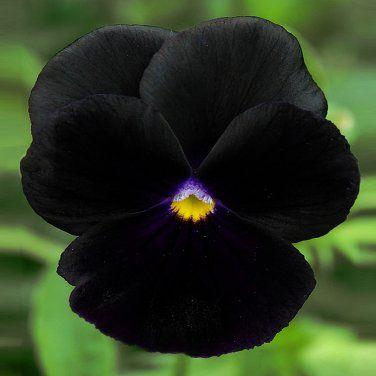 Black beauty pansies are viola cultivars that suit different garden designs from traditional to modern container landscapes. These plants produce traditional flowers with striking and moody twists.
Most pansies have dark purple flowers that add neo-gothic spookiness to your garden design. The flowering plant can tolerate frost and cold conditions without ruining its appearance. But the blooms will be dull during the winter months.
We recommend pairing your flowering plant with other bright-colored plants. It will help create a distinctive contrast to your backyard garden. Black beauty pansies thrive under a USDA zone of 5-9.
Black Star Calla Lilly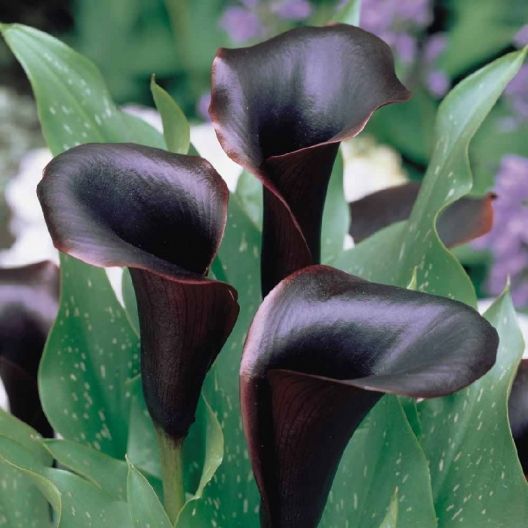 Calla lilies have trumpet-like flowers that stand out no matter the location. These flowers create a darker mood than others from different calla lilies varieties. The deep almost black burgundy matches perfectly with the dark stems and bright green foliages.
The sleek black flowers add a modern touch of elegance and dramatic flair to your garden. We recommend planting these flowers with brighter counterparts in container gardens or beds.
Black Velvet Petunia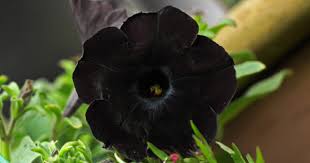 These are among the most popular plants with black flowers on the market. The trumpet-like flowers attract butterflies and hummingbirds to the garden. The dark petals have a velvety feel that contrasts with light green foliages.
If you plant black velvet petunia in droves, the black blooms will create a modern and minimalist appearance. The colored flowers also result in an impact when grown in the beds. These flowers need protection from heavy rain, cold, and wind.
Queen of Night Tulip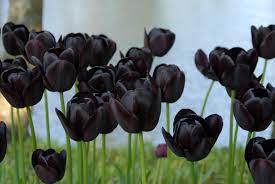 Tulips are the most sought-after flowering plants due to their color palette. The queens of night cultivars are my favorite choice due to their deep maroon flowers and reddish hues resulting in almost black.
These black flowers offer a classic and dramatic flair no matter the location. We recommend planting them in a group of other bright tulip varieties. Queen of night tulips prefers full sun and USDA zone of 3-8 to thrive.
Sweet William Sooty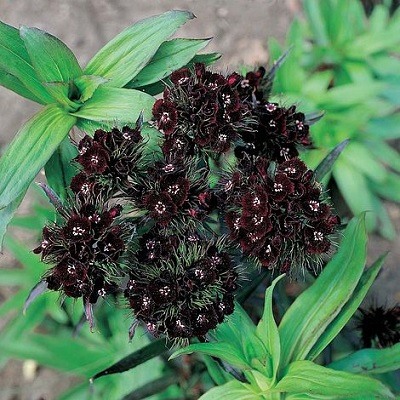 Sooty sweet William is another black flower species ideal for an old-fashioned cottage garden. The chocolate red flowers that are almost black sit on top of a cluster of bronze foliages to create an outstanding contrast.
The dramatic blooms will treat your garden throughout the spring and summer. Sooty sweet William plants are excellent companions for all tulip varieties resulting in a wonderful flower cut at home.
Black Barlow Columbine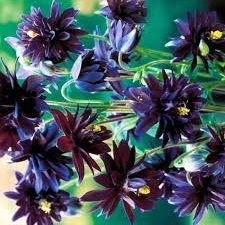 The columbine black Barlow plants offer the best flower-cut gardens. Thanks to their deep plum flowers with spikey petals that resemble pompoms. The almost black blooms have long stalks towering over the bushy green-grey foliages.
If you are looking to create a unique cottage garden border, we recommend growing black Barlow in clumps due to their true dark spectacles. These black flowers are short-lived and bloom from late spring to the early summer.
Snapdragon Black Prince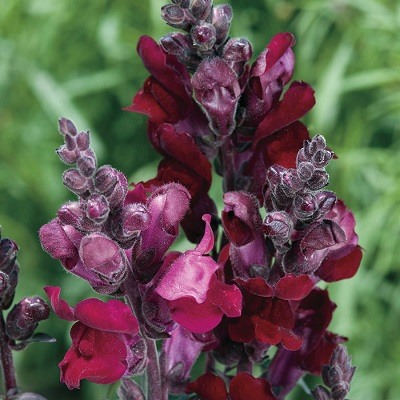 Snapdragons are attractive flowering plants that come in many bright colors, and a black prince cultivar is a perfect option for darker gardens wanting a splash of drama. These deep crimson flowers offer a gothic appeal to the backyard space.
The black prince blooms in the late summer to early fall to prepare the setting mood for colder months. These black flowers can tolerate a cold climate and thrive in the USDA zone of 7-10.
Dark Dimension Hyacinth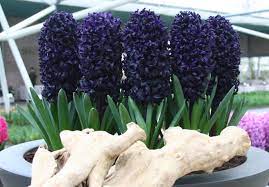 If you want to add dark moody flowers to your garden, consider dark dimension hyacinth species. These cultivars produce sports purple-blue star-shaped flowers that are almost black.
Each stem produces 10 to 20 buds from where a thick stalk of hyacinth emanates to create a dark flower display. The dark flowers are densely packed, resulting in a mysterious allure to your backyard garden.
Dark dimension hyacinths are excellent additions to the spring gardens with brightly colored flowers. The blooms produce lovely fragrances that attract bees and other potential pollinators.
New York Night Lenten Rose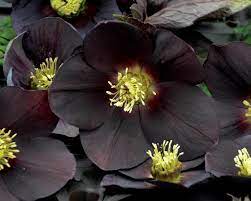 The Lenten roses have pastel-colored flowers. But the New York night cultivar is my favorite choice due to its large dark purple blooms that are almost black with the cup-shaped appeal.
The cultivar blooms from the early spring up to early winter. The dramatic black flowers flair with glossy green foliages can make a big statement to your garden. The plant stays green throughout the year in warmer climates.
New York night can thrive in any climate, although it is a little fussy. We recommend growing this hardy flowering plant in a USDA zone of 4-9. It is a perfect addition to desert shades in your gardens.
Cranesbill Geranium Black Widow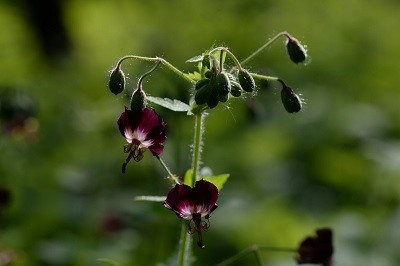 Cranesbill Geranium is an alluring flowering plant with numerous names. These plants are also called black widow, mourning widow, and dusky cranesbill. The deeply colored flowers are the reasons for these black flower names.
These perennial plants have flowers colors range from dark maroon to deep purple. Most flowers are almost black when viewed from a distance. The black window flowers are small but make a bold statement.
The eye-catching blooms rise above the low-lying crinkled and star-shaped leaves. I recommend planting black widows in woodland gardens since the intriguing flowers will make a bold statement.
Western Coneflower Green Wizard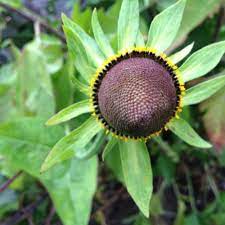 The green wizard western coneflowers add a unique texture and shape to flower beds due to their flaring petals and exposed middles. The cultivar produces acorn-shaped dark purple flowers sitting on light green sepals.
The black flowers and bright green sepal increases contrast to the garden and attract pollinators. The green wizard cultivars can reach five feet tall making them ideal for the back row in a flower bed.
If you want to add a perfect spin to your traditional and modern flower garden, we recommend this western coneflower species. The green wizard is not drought resistant and prefers a USDA zone of 3-9.
My Final Thoughts
If you have read up to this point, I can guess you require black flower garden ideas. We hope this article with black flower names and pictures will help create a stunning garden.
Feel free to share this information with your friends or family members struggling to choose between various plants with black flowers. You can also share your views or suggestions in the comment section.
People Who Read This Also Read: