Riding lawn mowers have some close similarities with cars. However, they are fitted with different equipment levels and engines which causes variation in weight. Besides that, improvement in technology has led to the development of numerous mowers with different weights and sizes.
Knowing the exact weight of the mower is quite important before you purchase since it plays a key role in determining the mode of transportation. This is quite important, especially when offering lawn care services to the neighbors. For example, 18 horse-power mower tends to be too heavy when compared to 12 horse-power mower.
How much does a riding mower weigh? About 300 to 600 pounds. But it usually depends on the brand. For instance, the average weight of a Husqvarna is about 479 pounds.
We have researched various brands of riding lawn mowers and found out that there are so many factors that determine their weight. It is worth considering these factors to make an informed decision when buying these machines.
Meanwhile, how much does a riding lawn mower weigh? This should be the question that is tossing your mind right now.
You May Also Enjoy: How Often Should Mower Blades Be Sharpened?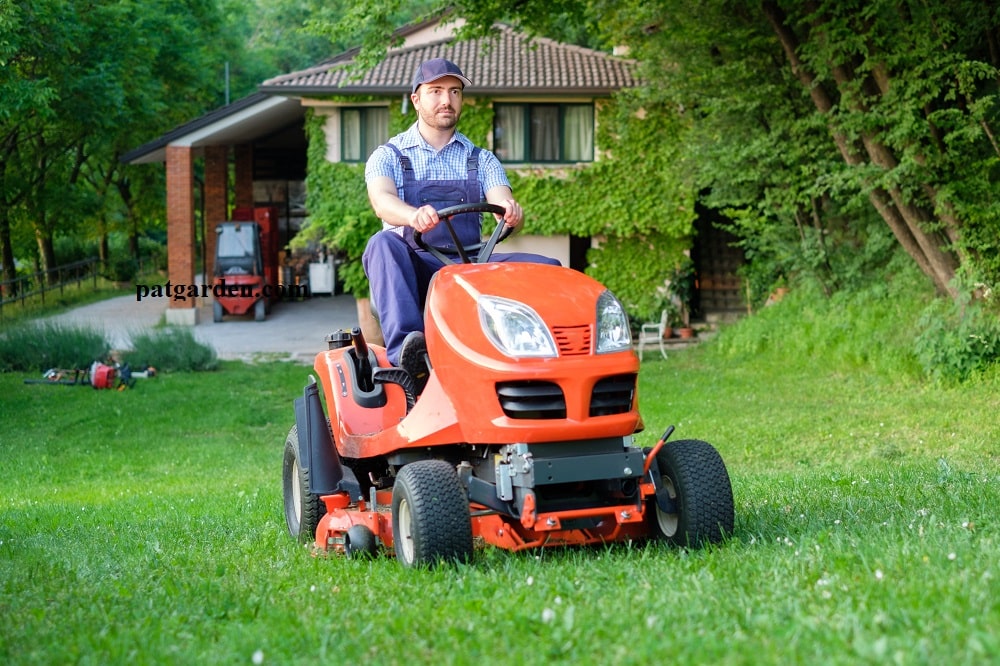 What are the Factors that Determine the Weight of a Riding Lawn Mower?
A gas riding lawn mower is made by combining various parts to enhance their function and motion. These parts are responsible for determining their weight regardless of the brand. In this guide, we will cover both electric and zero-turn riding mowers. Let's find out:
The Wheels
An individual wheel of the gas riding lawn mower tends to be lighter. However, the combination of the four wheels on the mower increases the weight of the machine. It is the reason why you will notice those mowers with huge wheels tend to be heavier than those with smaller wheels.
The front wheels of the riding mowers are smaller and they tend to weigh around eight pounds. The rear wheels are a little larger than the front ones and they weigh about 100 pounds especially those of the large three-blade mowers.
If you are looking to add weight to your riding mowers then consider introducing heavier wheels. However, many experts recommend adding parts to the mower that are typically designed for them.
One of the popular and affordable parts from Amazon is the Tex-Style Lawn Tractor Frame Snow Dozer Plow Blade. However, shipping them tends to be so expensive.
The Engine
The engine is a vital part of the riding mower since it is responsible for triggering movement. It tends to contribute about 18 to 25 percent of the weight of the machine. However, the size of the lawnmower determines the type of engine to be fitted in it.
For instance, a Briggs and Stratton 16-horsepower mower engine of 656 cc weighs around 84 pounds whereas a 27-horsepower engine of 840cc weighs about 87 pounds.
You should note that the power of the engine is not responsible for adding weight but the materials used to make up the engine.
On the other hand, lawnmowers used for mowing smaller yards tend to weigh less than those used to mow large yards. This happens so since they are built from heavy parts to withstand the amount of effort needed to mow large yards.
The Deck
The deck of a riding lawn mower is made up of the deck shell, blades, spindles, belt, gauge wheels, and the chute among many parts like those used to offer protection to the inner parts of the mower.
According to research, wider decks tend to be much heavier than narrower decks. The average weight of a deck ranges between 70 to 140 pounds.
The shell of the deck is made from heavy-duty steel alloy and this is the reason why it is considered to be the heaviest part of the deck. Spindles are the next heaviest since it tends to occur in two areas such as the blades and the bottom.
Mowers that have three spindles and blades weigh about 120 plus pounds. These of the deck parts tend to be lighter.
The deck of a riding lawn mower is a key part to consider when determining the quality. A mower with light spindles tends to be less durable since it is made from a low-quality alloy of steel. Therefore, do not be afraid to consider heavier deck riding mowers due to their superior quality and durability.
Zero-turn Mowers
Some smallest residential zero-turn mowers weigh much heavier than the large class conventional riding mowers. These types of mowers have larger, heavier, strong engines and parts that tend to be heavier to enhance stability.
The average weight of a lighter zero-turn mower is about 650 pounds and they are pretty to ride. On the other hand, the high-end mowers tend to weigh about 900 pounds and the heavier ones weigh about 1450 pounds. Those riding mowers used by professionals weigh more than a ton since they are designed for larger yards.
Electric Mowers
The weight of the electric mower is slightly lower than that of the gas engine mower. These riding mowers do not have motors and decks hence the reason behind the lower weight as compared to their counterparts. However, the large batteries of electric mowers make them have weight somehow close to those of the gas engine mowers.
The majority of electric zero-turn mowers engines have been made with residential in the mind and this is another reason behind their lower weight. Unfortunately, there are no models yet in the form available for offering professional services.
Table Chart Showing the Riding Lawn Mowers Weights
| | | | |
| --- | --- | --- | --- |
| Brand | Model | Cutting Width | Weight |
| Cub Cadet | XT2SLX | 52 inches | 470 pounds |
| Cub Cadet | XT1LT | 42 inches | 410 pounds |
| Yard Machines | 13A2775S029 | 42 inches | 520 pounds |
| Husqvarna | YTH1942 | 42 inches | 479 pounds |
| Craftsman | 27343 | 46 inches | 525 pounds |
| Poulan Pro | 960420204 | 46 inches | 428 pounds |
| Craftsman ProSeries | 27038 | 42 inches | 580 pounds |
| Poulan Pro | 960460077 | 42 inches | 437 pounds |
| John Deere | E150 | 48 inches | 483 pounds |
| John Deere | S240 | 48 inches | 458 pounds |
| John Deere | X300 | 42 inches | 542 pounds |
In Conclusion
Riding mowers are excellent when it comes to cutting the large lawn. However, it is quite important to check the weight when looking to tow and transport.
You should note that heavier riding lawn mowers tend to be too expensive to transport since they require heavier transporting machinery.
If you are unsure about the weight of their weight then it is worth visiting the manufacturer site and inquire.