Chinese evergreens (Aglaonema) have beautiful looks and easy to care requirements. The diversity and beauty make aglaonema plants to be loved by many houseplant enthusiasts across the United States of America.
But Chinese evergreens come in different colors, sizes, and shapes. The diversity in leaf colorations makes aglaonema varieties worth adding to your indoor plant collections. These colorful houseplants are known for brightening up many homes.
Botanists' registry shows there are over twenty aglaonema species in the world. But these Chinese evergreens have more cultivars names than botanical names. It makes the classification of aglaonema species a little bit challenging.
I've gathered 20 stunning aglaonema varieties with names and pictures for you. Take the time to read through this article and pick the best Chinese evergreen plant varieties that suit your coffee tables or office space.
You May Also Like: Why Are My Aglaonema Leaves Turning Yellow?
20 Best Aglaonema Varieties with Names and Pictures
Aglaonema Chocolate
Chocolate aglaonema is a stunning Chinese evergreen variety available. The dark green plant comes with light pink to red veins that have easy to care requirements.
The velvet coloration across the broad full foliage makes this ornamental plant ideal for warming up darker corners and making a bold statement in any living space.
Chocolate aglaonema help to remove benzene and formaldehyde from the air at home or office. This houseplant is not among rare aglaonema varieties.
The houseplant requires low to medium bright indirect sunlight. It further flourishes when the humidity level is about 50% and the temperature range from 65-75oF. It is mildly toxic if ingested.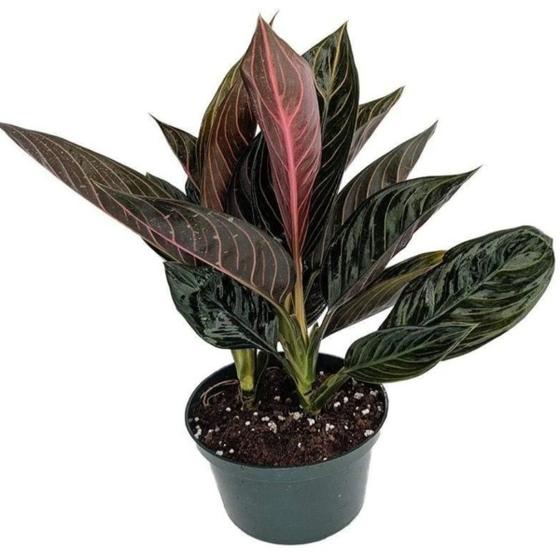 You May Also Enjoy: 20 Beautiful Large Low Light Houseplants
Aglaonema Silver Bay
The silver bay Chinese evergreen belongs to green aglaonema varieties. The gorgeous variegated foliage marked with silver and dark green patterns makes the species an excellent addition to your plant collection.
These aglaonema species are versatile and usually range from large to small sizes. The houseplant is ideal for tables or desktops and floor plants. The glossy foliage unfurls from the center and grows up to two inches long.
This aglaonema cultivar has minimal requirements when compared to other Chinese evergreen varieties. The plant grows relatively faster under medium bright indirect sunlight and high humidity level conditions.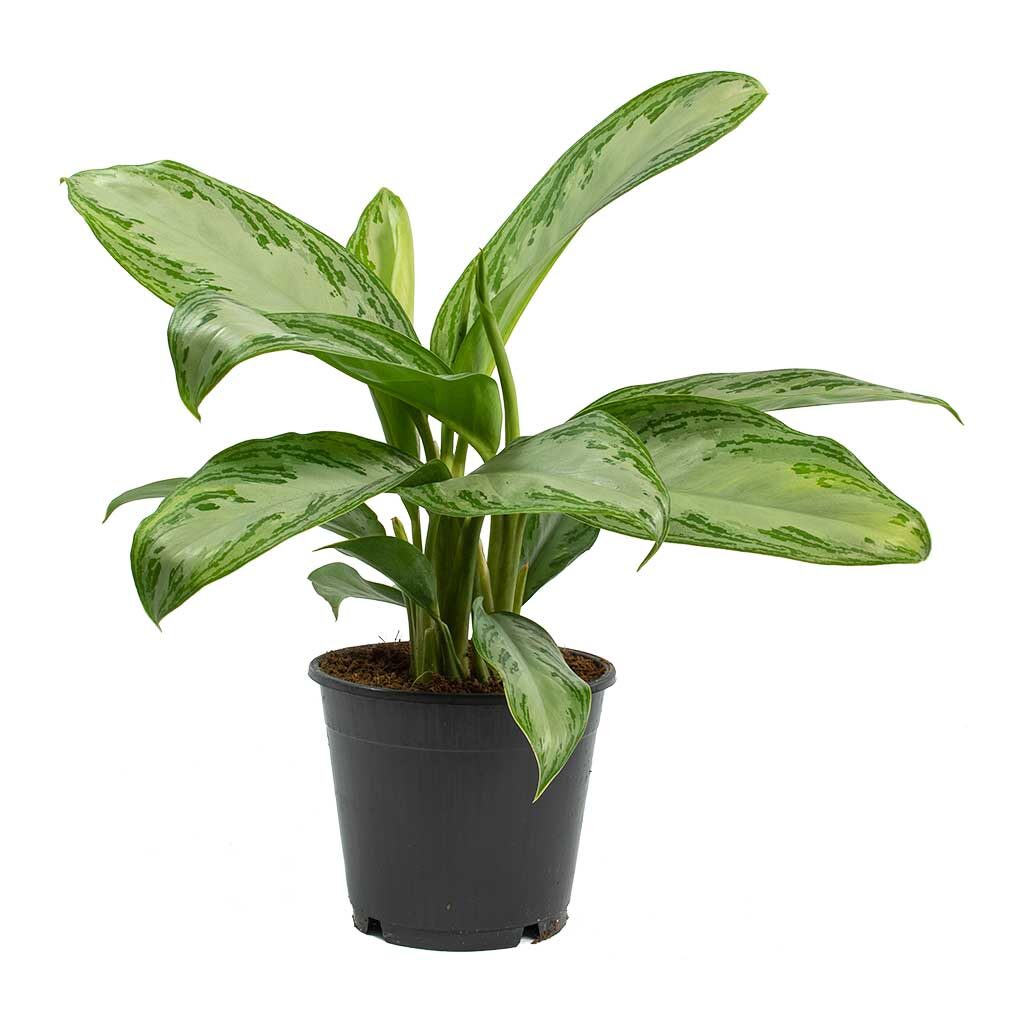 Aglaonema Pictum Tricolor
The Chinese evergreen tricolor is a variegated aglaonema pictum species. This sub-tropical plant has stunning foliage and comes with low-maintenances.
The tricolor foliage displays a mixture of three different shades of green-lighting, medium, and dark. The camouflage oval-shaped leaves make the plant an incredible addition to any space.
If you are looking to maintain the gorgeous colorations on the leaves, consider placing the houseplant in a region that receives bright indirect sunlight.
But this is among the most expensive and rare aglaonema varieties. Finding this thought after houseplant in European markets can be challenging a little bit.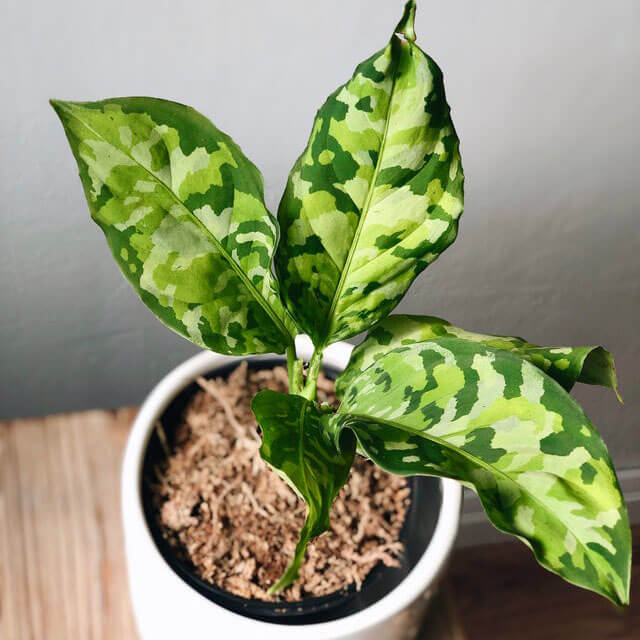 Aglaonema Prestige
If you are obsessed with beautiful things, consider aglaonema prestige variety. Its attractive pink and green foliage makes this houseplant an incredible addition to your indoor plant jungle.
This sub-tropical plant is common in Asia and New Guinea climate. But this plant can also survive in house conditions. Thanks to the ability to tolerate low light conditions.
The foliage variegation of aglaonema prestige is more conspicuous when grown under bright indirect sunlight and high humidity conditions.
The natural beauty of these aglaonema varieties pink can make a huge statement in your office space or workstation. You might end up getting several compliments from friends and visitors.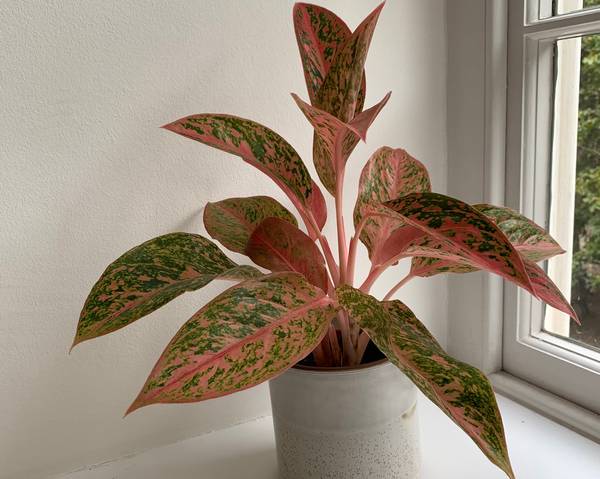 Aglaonema Silver Queen
This Chinese evergreen perennial is also known as painted drop tongue. Its silver and green variegated leaves bring out the regal and classy appearance of a queen.
If you are looking to bring lush and tropical vibes to your space, consider aglaonema silver queen species. It comes with a free-branching style and grows up to 24-inches tall.
The silver queen variety thrives under low light conditions to produce striking foliage patterns. Regular dusting of the wide waxy leaves is highly recommended to remove grime buildup.
These silver aglaonema varieties are less susceptible to pest infestations. Always inspect the underside of the leaves and use a cotton swab dipped in alcohol to remove any buildup of pests.
You May Also Read: 20 Beautiful Hoya Varieties with Pictures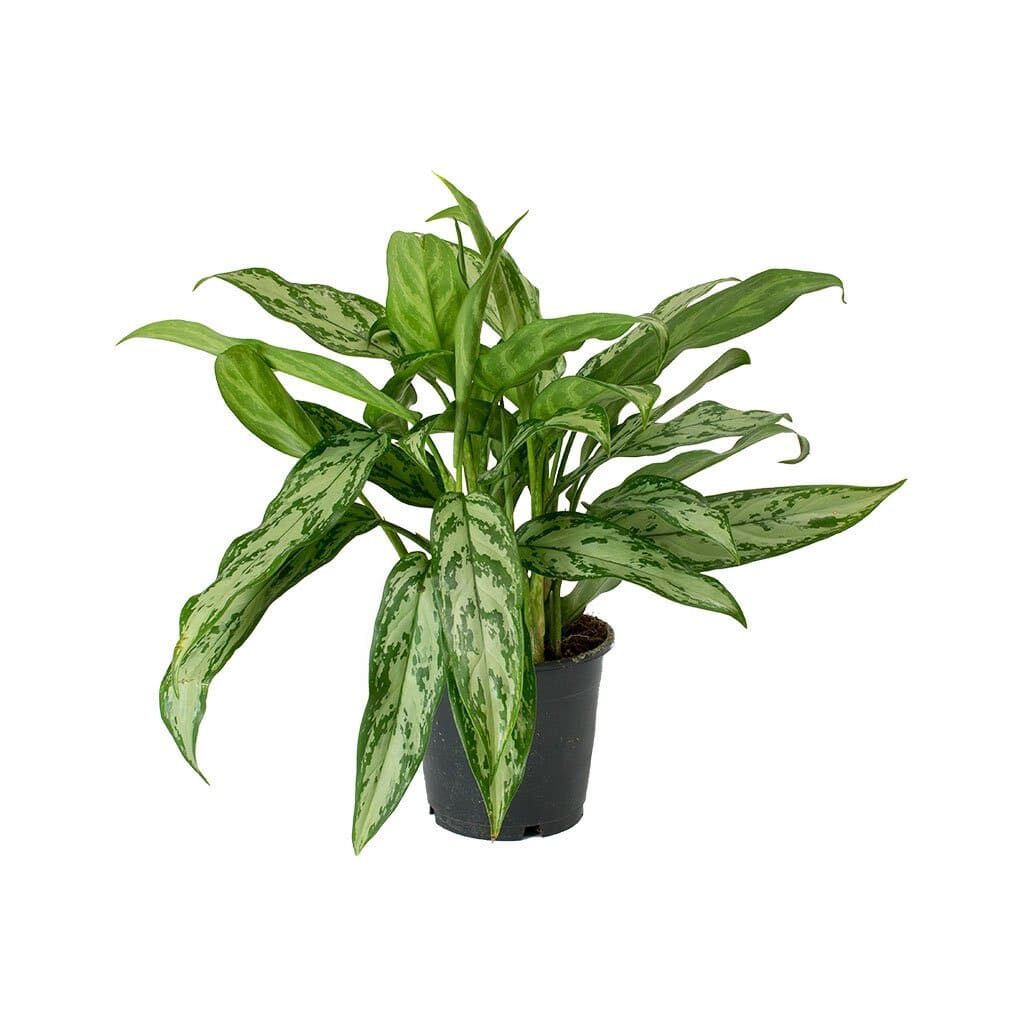 Aglaonema Creta
This aglaonema species has striking dark to light green foliage with a deep red edge stem. The flamingo pink color brings a bit of drama and elegance to your space.
The effortless charm and opulence make this houseplant ideal for study, office, bedroom, and living lounge spaces. This beauty is a perfect choice for face lifting your dull rooms.
All green aglaonema varieties are known for air purification at home and aglaonema creta species are not an exception. Besides that, it is easier to grow and maintain by novice gardeners.
This indoor plant prefers low to bring indirect sunlight to foster lush green foliage with burgundy red splash stem. The exciting foliages and stems are ideal for brightening up the mood at home.
Aglaonema Pink Dalmatian
Pink Dalmatian species is common in Australia. Thanks to the opulent thick, leathery, and shiny foliages that lure many Aussies.
The beautiful shades of jade greens with pink spot splashes all over tend to make an incredible statement in any room. The splattering pink spots are the reason behind the name.
If you are looking for the best aglaonema varieties with well-balanced contrast between green and pink foliage, consider pink Dalmatian species.
The houseplant is ideal for removing benzene and formaldehyde from the air at home or office. Besides that, it requires little to no maintenance when compared to other Chinese evergreen varieties.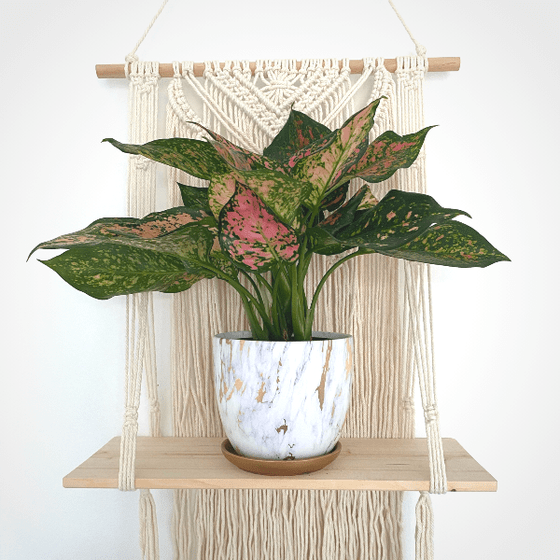 Aglaonema Red Valentine
Aglaonema red valentine is an ornamental houseplant with vibrant and vivacious looks. The stunning foliage is enough to make a statement at home or office.
The Chinese evergreen produces fantastic leaves mark with striking rose-pink random splashes and dark-green blotches. These inviting colors make this species look truly exquisite.
One of my favorite features is the longevity of the houseplant. The indoor plant can live for many years under ideal conditions with minimal maintenance.
The ease to grow and benefits make red valentine a perfect choice for many homes or offices. It removes toxin substances from the air to reduce irritant effects to humans.
You May Also Enjoy: Why Are My Aglaonema Leaves Limp and Drooping?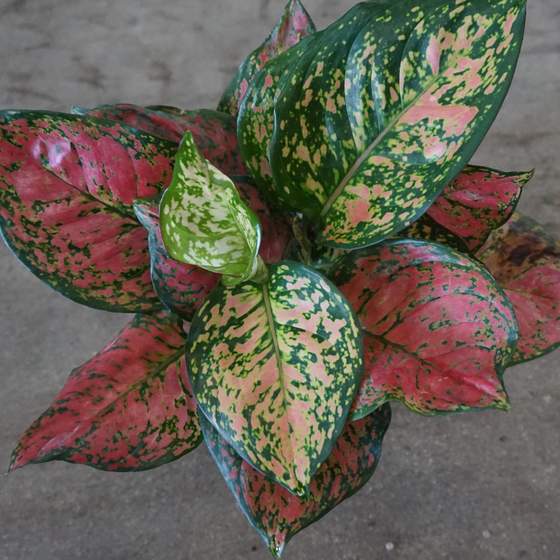 Aglaonema Prosperity
This Chinese evergreen species is among the most beautiful houseplants to consider. The exciting variegation makes aglaonema prosperity popular in many homes and offices.
This low resource houseplant flourishes when kept away from vents or bonds. It is a perfect choice for beginners without experience in growing houseplants.
The variegation can accentuate any room. Many aglaonema cultivars believe that the species bring wealth, fortune, good health, and prosperity to your office or home.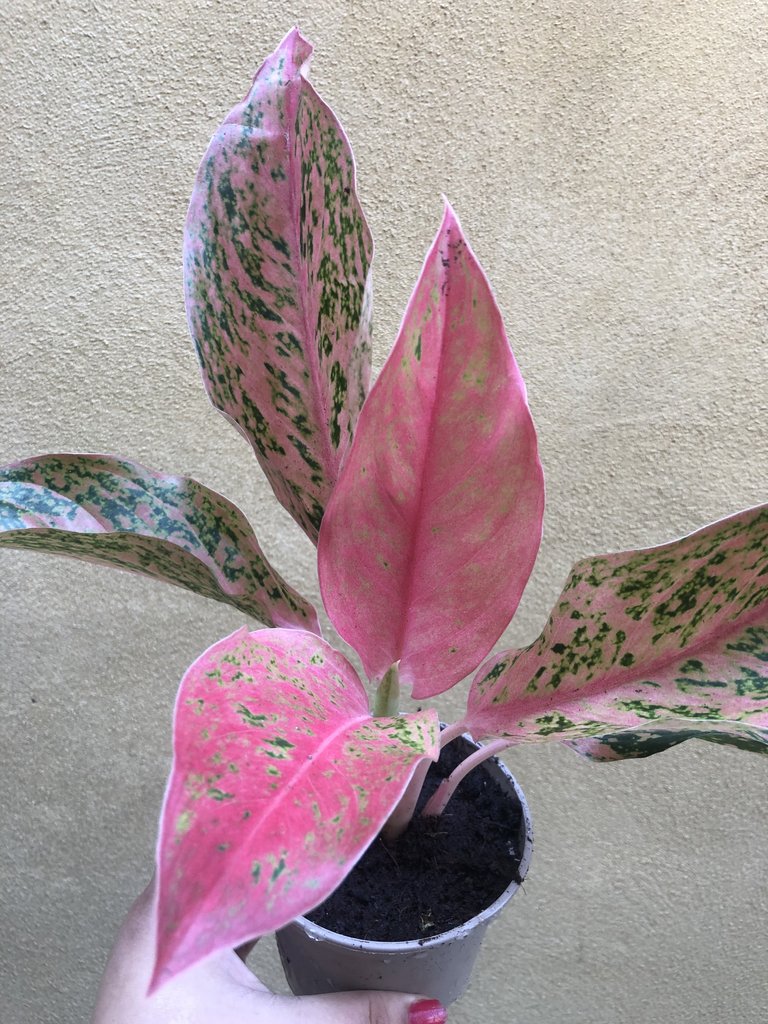 Aglaonema White Rain
The white rain aglaonema is simple and classy. The shades of green and cream make aglaonema white rain to be among the understated aglaonema varieties.
If you are looking for species with mute and serene appearances, consider white rain aglaonema species.
But this Chinese evergreen species is usually loud and brash due to its stunning foliage. The pleasant-looking foliage can steal the limelight at home or office.
This aglaonema cultivar has thin leaf tips to enhance elegance and upright posture. The growth design makes this cultivar stand out from other aglaonema varieties grown in the baskets. 
You May Also Read: Red Aglaonema Varieties with Pictures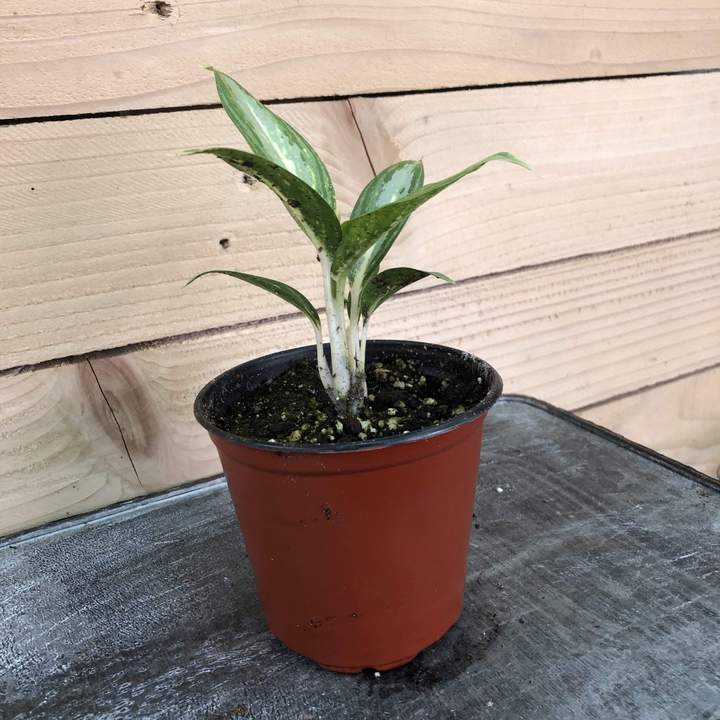 Aglaonema Harlequin
Harlequin is the most beautiful cultivar when compared to other aglaonema varieties. The species come with pink veins and predominant green leaves.
The striking colorations and sharp borders between the colors make the cultivar suitable for growing at home or office spaces.
The species belong to the pink aglaonema varieties. Learning more on aglaonema species identification makes it easier to spot harlequin variety.
Growing and caring for aglaonema harlequin is super easy. But identifying the species from other pink Chinese evergreen varieties can be overwhelming.
You May Also Read: 25 Recommended Peperomia Varieties with Pictures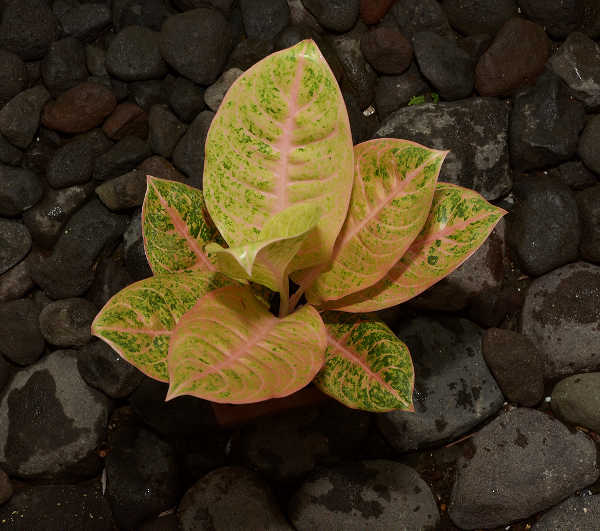 Aglaonema Super White
The species has almost pure white leaves, and it's among the rare aglaonema varieties in the market. The aglaonema species is suitable for adding light to your interior planting schemes or office desk.
The striking foliage plant can cope with low light conditions and a temperature of about 15oC. Exposing the plant to direct bright sunlight will scorch the leaves and turn brown.
You can get aglaonema super white in Canada, United Kingdom, and Singapore. Keep in mind that the rarity of aglaonema super white makes them pricey.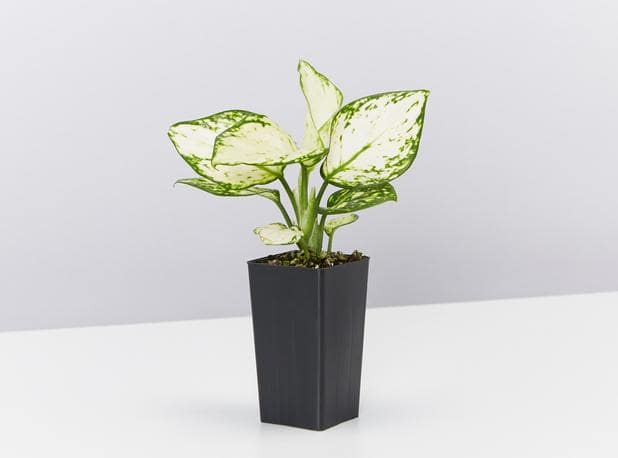 Aglaonema Modestum
If you are looking for a Chinese evergreen variety with lush tropical-looking foliage, consider aglaonema modestum species.
The large, waxy, and dark-green leaves can make a bold statement in any space. The species is often available in the variegated form shown in the picture below.
Aglaonema modestum is sensitive to cold and prefers a temperature range of 70-80oF. But the aglaonema variety can tolerate low lighting conditions.
The Chinese evergreen species usually produce flowers at some point. The best option is to remove the flowers to redirect energy to the foliage.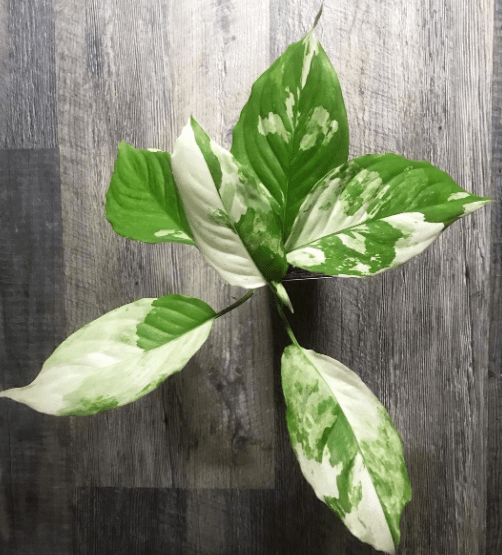 Aglaonema Diamond Bay
Diamond bay is a classy variegated plant that helps to bring out an exotic tropical touch at your home or office space. It is also an excellent addition to your pink and red plant collections.
The stunning variegated leaves are long and lance-shaped. The grey-green center on the foliage makes the houseplant make a statement in your office or living lounge.
The lovely thick foliage and easy to care requirements contribute to the popularity of this species in the market. But it is considered to be among the rare aglaonema varieties.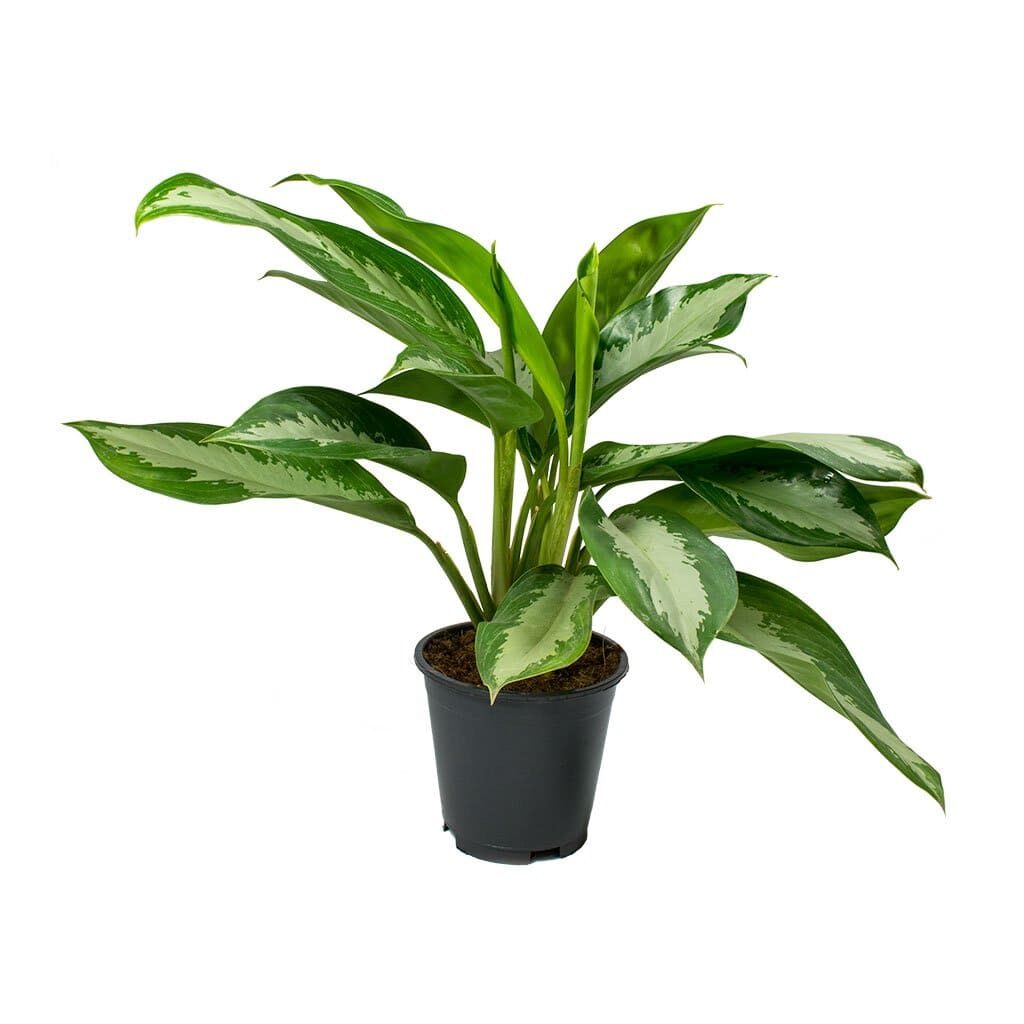 Aglaonema Bidadari
The pink aglaonema bidadari is an excellent interior decoration houseplant due to its exquisite variegations. It has large glossy oval-shaped leaves mark with pink, green, and cream colors.
The short, thin, and pink-colored stems give the indoor plant a full lush appearance. Pink is the most conspicuous color on the plant for bringing out that exotic tropical look.
The aglaonema bidadari care is minimal and can suits beginners without indoor plant care experience. The houseplant can tolerate tough indoor growing conditions with ease.
Aglaonema Siam Aurora
Siam Aurora belongs to red aglaonema varieties. The species has a stylish, sassy, and colorful outlook ideal for decorating your interior space.
This rare aglaonema variety has deep-green hues splashed with hot pink tones. This multicolored plant is a perfect choice for enhancing the ambiance of the living space or office.
The houseplant can be used as a floor plant or desktop plant. The small size gives the plant a sense of style to impress your visitors or friends.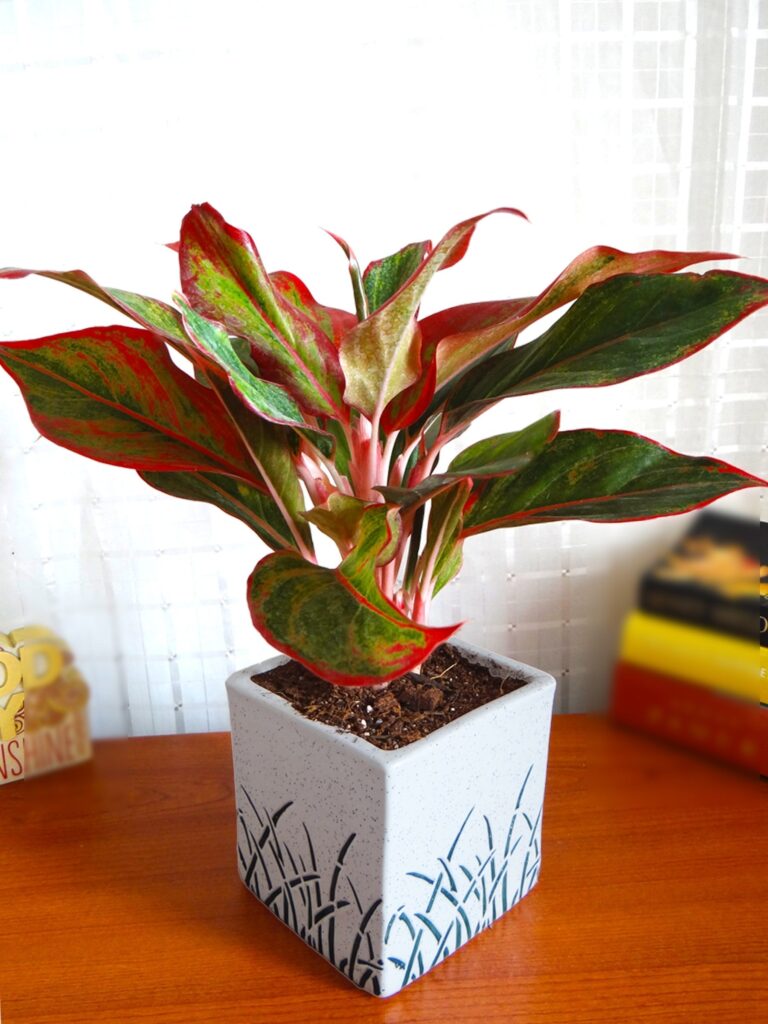 Aglaonema Red Anjamani
The cultivar is among the leading red aglaonema varieties. It's an excellent tabletop centerpiece and usually brings tropical vibes to any space.
The aglaonema cultivar is super affordable when compared to other Chinese evergreen varieties. The foliage comes with bright red colors mark with deep green spots and borders.
Red anjamani species usually hold their vibrant hues throughout the year. The species has also a long lifespan than other popular pink aglaonema varieties.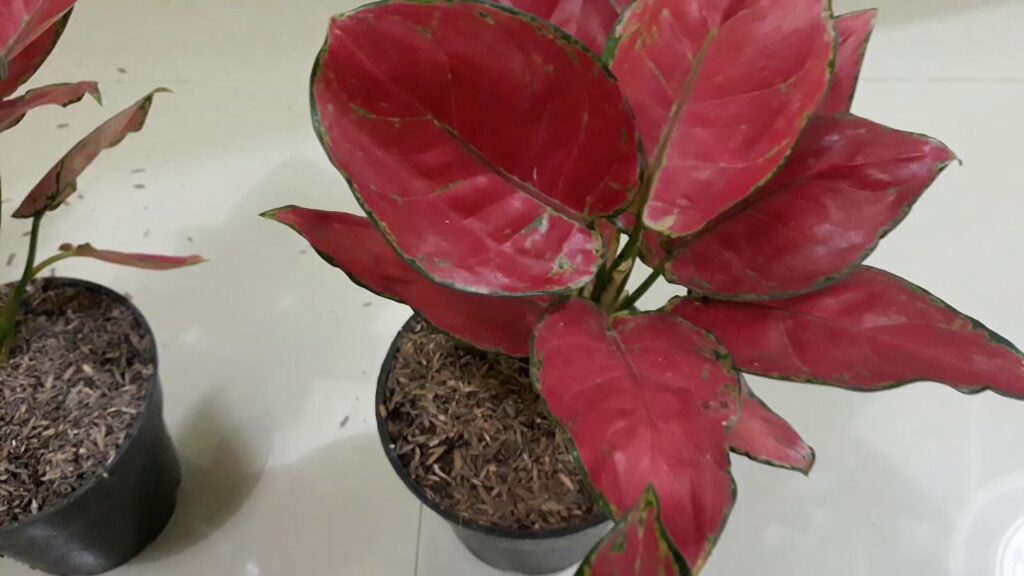 Aglaonema Maria
It's a wonderful addition to your indoor plant collection. The species come with long lance-shaped leaves that give your interior space a tropical vibe.
Aglaonema maria has glossy and deep-green foliage marks with silver-green chevrons. This striking marble plant is the perfect choice for those individuals affectionate with lush green space.
The eye-catching appearance makes the species blend well with colorful Chinese evergreen varieties. It usually makes your space resemble a tiny tropical rainforest.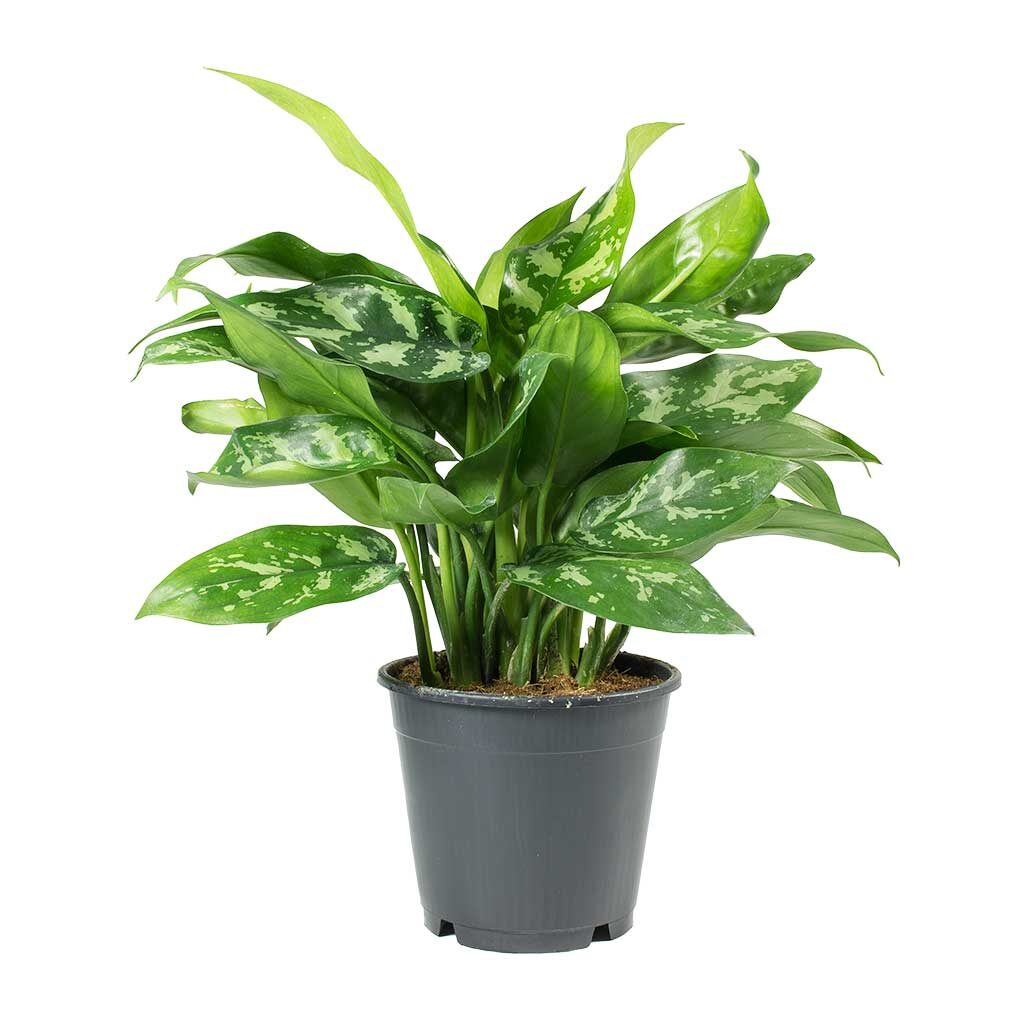 Aglaonema Cutlass
Cutlass is an aglaonema variety that makes a bold statement in any room. The species has long and lance-shaped leaves with pale silver-green colors.
The dark-green foliage patterns bring an exotic tropical touch to home or office space. The leaves grow from the short stems to give the indoor plant a full-lush outlook.
But aglaonema cutlass is a slow-growing houseplant. It has a maximum height of 50cm making the plant ideal for bookshelves, side-table, and countertops.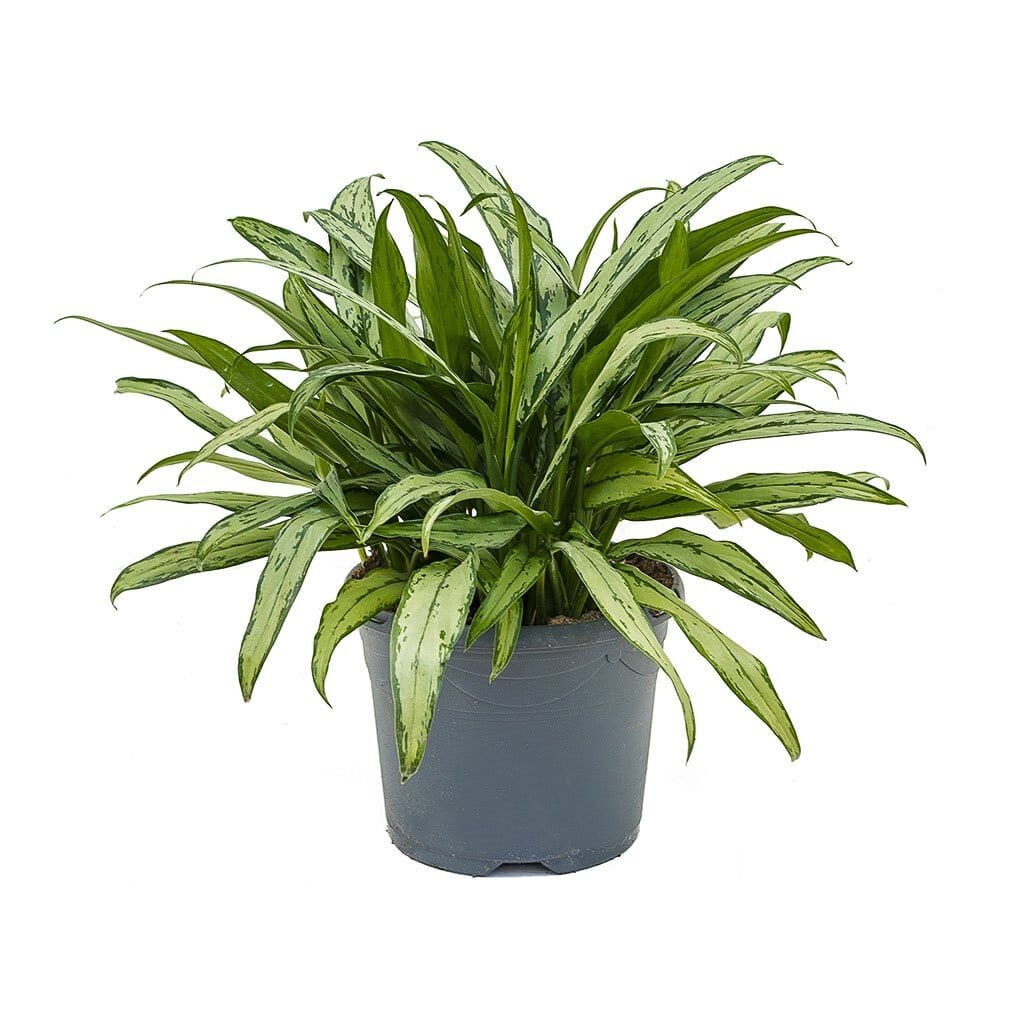 Aglaonema First Diamond
The extra flashy foliage makes the first diamond a coveted aglaonema variety. The white splashes with dark green patches create an eye-catching appearance.
The beautiful leaves grow up to 20cm and sit atop the short stems. The foliage coloration allows the plant to brighten any space or corner of your home.
My favorite feature is that the houseplant demands less attention. Overwatering makes the plant susceptible to yellowing of leaves and root rot.
You Can Also Read: 25 Philodendron Varieties With Names and Pictures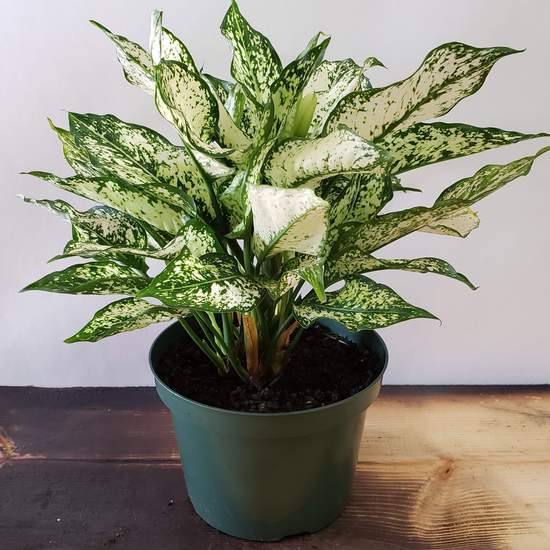 In Conclusion
Aglaonema species identification can be overwhelming to both novice and experienced houseplant enthusiasts. But I hope this tour of aglaonema varieties was helpful.
Rare Chinese evergreen varieties are super expensive. But these species are incredible to add to your indoor plant collections.
Learning how to grow and care for aglaonema plants is crucial. The techniques help to grow a houseplant with striking colors that make a bold statement in any space or room.
More Sources and References